Ad Roundup – #6 May 2021
Ad-land was bursting with brilliant music and sound in May - here are our top picks.
Thundercat delivering the goods for Diet Coke, a 200-piece drum band for Ladbrokes, and a joyous Barbara Streisand sync for John Lewis. Delightful.
Diet Coke – Just Because
Everyone knows there's nothing better on a hot summers day than cracking open a crisp, cold can of Diet Coke and, as we enter the month of June and the weather is finally starting to take a turn for the sunnier, warmer, all around BETTER, it seems apt that we celebrate the beloved fizzy beverage.
I suppose Diet Coke had to come through with something equally thrilling after ole fashioned Coca-Cola had Tyler, The Creator write an original track for their "Open that Coca-Cola" campaign earlier this year. And what better way to give your ad some clout than getting Thundercat to do a smooth, contemporary funk-infused re-record of Diet Coke's brand jingle "Just for the taste of it" (did anyone else know Elton John previously covered this, btw?) and you know Thundercat delivers the goods!
We've swapped the colour-popping hues of the earlier Coca-Cola campaign for a palette, though no less colourful, decidedly more 80s shimmer- aesthetic, softer and hazier, aligning perfectly with the laid-back nature of the track and slow-motion pace of the ad, which sees a diverse cast of characters expressing their individuality through a myriad of silly activities.
The vibes are truly immaculate with this one, kids.
Agency: Droga5, Production Company: Anonymous Content, Director: Autumn De Wilde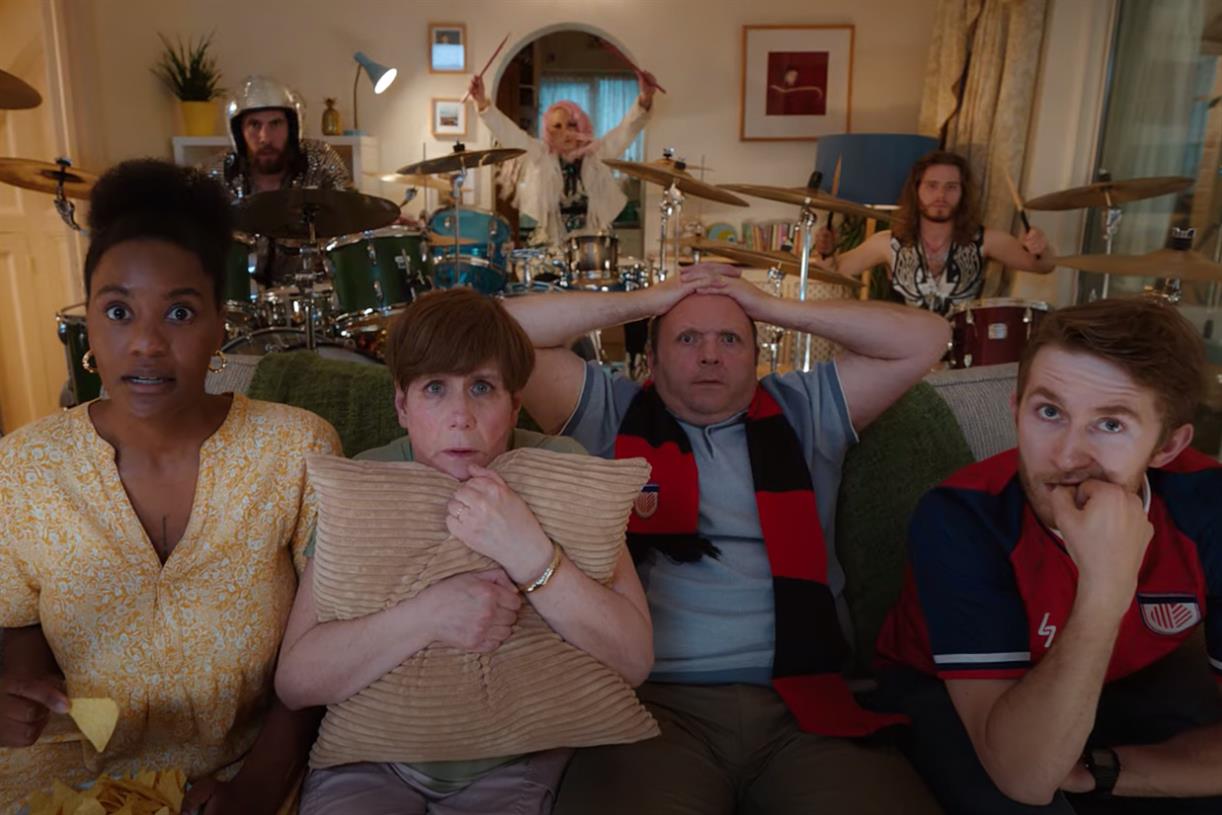 Normally I would flat-out refuse to engage with football culture, but this ad might actually persuade me to google what 'Euro2020' is (I won't). But either way, what a mad achievement. A truly special, perhaps even ground-breaking piece of creative work.
Filmed in May this year, the production included employing 190 skilled and experienced drummers, plus 200 extras. Del Amitri drummer, Ash Soan, was responsible for arranging and composing the drummers in the shoot.
A truly special, perhaps even ground-breaking piece of creative work.
Set to the track "Rock and Roll Queen" by UK band The Subways, the visceral, propulsive energy of the drums does an expert job of building tension – effectively re-creating the anticipatory, heart-thumping moment football-fans feel before a penalty. And I have to say, seeing all those drummers banging along synchronously truly took me back to the unparalleled joy (and fear) felt in the most pit during the Wokingham Youth Club battle of the bands. So, if nothing else, thanks for that throwback moment, Ladbrokes. Unreal scenes. Hats off to everyone involved.
Agency: Neverland, Production Company: Rogue Films, Director: Sam Brown
Bloody Good Period – No Shame Here
LOVE this.
Bloody Good Period are on a mission to end period shame and have done so by creating a beautiful, colourful, animated film, which is perfectly sound-tracked by a re-imagining of Cece Peniston's classic tune 'Finally', performed by up-and-comer Chiara Hunter. The lyrics are unapologetically, unashamedly centred around describing the every-day experiences and realities of menstruation (my favourite lyric being "happens every month and it's never easy but at least it only ever occurs periodically" – get it? Periodically!? Brill.)
The lyrics are unapologetically, unashamedly centred around describing the every-day experiences and realities of menstruation.
The track is essential in bringing the piece together, both in being able to tap into a recognisability-factor but with the re-work bringing a fresh edge that elevates and emphasises the power of the subject matter. Also fantastic to see a wealth of female talent coming together to create the piece – from the animators to the producers, the directors to the recording artist, lending a platform not only to the cause but also to each other.
Since the start of UK lockdown in March 2020, BGP has distributed over 66,000 packs of menstrual supplies to those who otherwise wouldn't be able to afford or access them. If you'd like to donate, you can do so here.
Agency: Mother, Production Company: Strange Beast, Directors: Anna Ginsburg & Caitlin McCarthy
John Lewis – Anyday
Yes, I am a Barbara Streisand stan and no, I will not apologise for it. Also a huge fan of John Lewis finally offering their fabulous homeware/cookware/fashion-wear goods at reasonable prices. Win WIN.
Agency: Adam&EveDDB, Production Company: Riff Raff, Directors: Francois Rousselet
Innocent – Little Drinks, Big Dreams
Lovely, imaginative… innocent-sounding, even? A fab bespoke ditty for Innocent smoothies, centred around our primary concern regarding the planet – saving it! The campaign release coincides with the brand's relaunch, showcasing the brand's visual re-vamp whilst simultaneously touting its commitment to the environment; encouraging people to take action to help the planet and how we, collectively, have the power to bring about big change through positive actions – no matter how small.
The scene is set through a cheerily ironic song, which, despite its upbeat tempo and bop-along nature, lyrically highlights many of the worrying issues facing people and the planet on a daily basis – "we're messing up the planet" being the leading lyric, which then becomes "let's get fixing up the planet" and, let's face it, if an adorable, animated, performing otter fails to inspire and encourage audiences to take action in the hopes of creating a healthier, happier planet, what will!?
Agency: Mother, Production Company: Blinkink, Directors: Alex Grigg
Honourable mentions: